Electronic Design and Family Site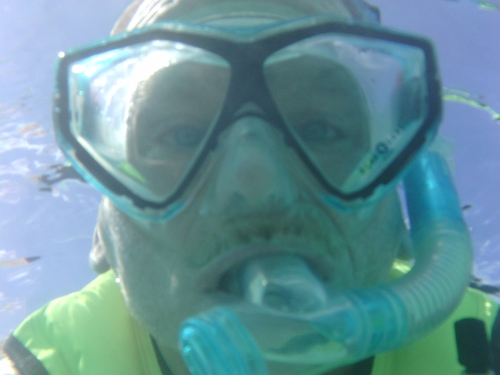 The obligatory "Self-Portrait"
On early visits to the beach, I always wondered what was under there. That was a source of some fear for me; I had no idea what creature lurked mere inches from me. Thus, it seemed natural that I would explore snorkeling. Once I tried it though, I immediately lost my anxiety and gained a world of wonders. The world under the surface is indescribably beautiful. Hopefully, in the pictures below you will come to see that world as I do.
In April, 2012 we took a Disney cruise. The itinerary was a bit limited...mainly the Bahamas and Disney's private island, Castaway Cay. This island was the highlight of the cruise. We stopped there twice about 3 days apart. It is truly paradise. The highlight of the days for me was snorkeling in Disney's special lagoon. They had what I would guess was a 50 acre lagoon netted off from the open ocean (I assume to prevent predators from entering), with several surprises inserted at various points. There is no reef, and thus, no amazing reef creatures, but there is still abundant sea life and those surprises made it even more fun.


In January, 2012 we attended our daughter's honeymoon with her and some friends...in St. Lucia. Our visit was brief, and the opportunity for decent reef snorkeling was small, but I got to dive on 2 different reefs. St. Lucia is a volcanic island which makes the sea floor drop off steeply. That may make for great scuba, but for snorkelers, the view is limited.