Electronic Design and Family Site
If you've read the rest of my site, you probably think I'm uni-dimensional. Actually, I'm a pretty busy person. I have virtually no time to just "sit". I only watch one TV show regularly (Star Trek, can't get enough of it).
Check it out:
"Anything you can buy, you can make yourself.....cheaper, ...stronger,...and exactly what you need"
I love to work wood. Most of what I make is functional. That means that they are useful items whose prime focus is their usefulness, rather than looks. Some of the items I've made are:
-A built-in stereo console for our living room. It's about 7 feet long and two feet deep. It has shelves to hold the stereo components (including speakers), records, tapes, and the top serves as a "window-seat" under our front windows. It has built-in wiring for power, telephone, and Cable TV. The bottom of the center third is an air duct for our furnace complete with a hand-made register.
**Mar 2012 - An update to this piece: After 15 years of wonderful service, we pulled it out this week. We were losing 12 sqft of floorspace with this piece. Although it hid a terrible artifact from an old window, we needed the floor-space and found another way to hide the mess from the window. Long live my greatest piece!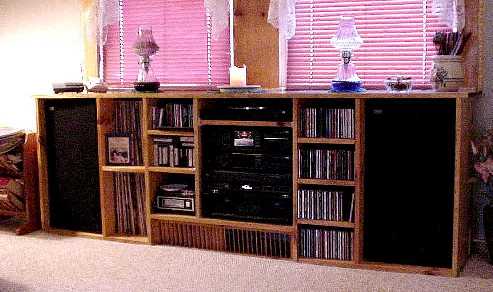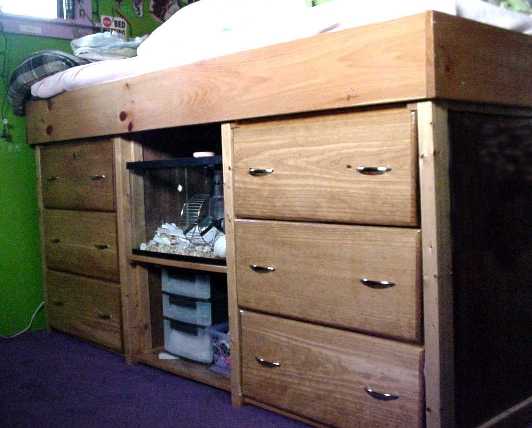 - My daughter's bed. It's a loft bed that's supported on either side by two dressers with shelves between the dressers for her Hamster cage. Six BIG drawers in all. **Note: The daughter didn't want a loft bed as a teenager, so the dressers have been commandeered to be a cutting table in my wife's sewing room. We simply put a large piece of particle board on top and turned it into a 3' by 5' table.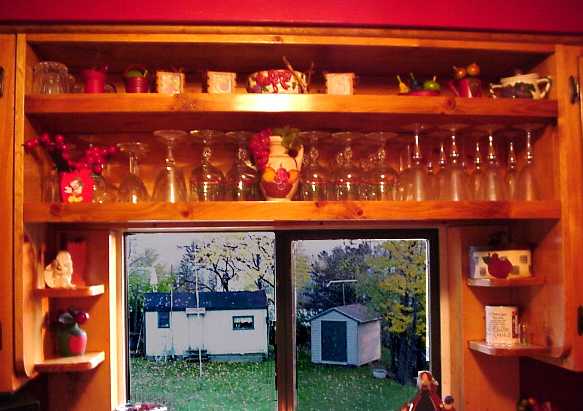 - A kitchen cupboard. The space over our sink was an odd size. It was wider than the average cabinet, and the space from the top of the window to the ceiling was a little smaller than anything available. I built a cabinet with two open shelves to hold our wine glasses. As well, this cabinet is built into the window frame, and contains 4 shelves surrounding the window. The neat thing about this project is that it was made entirely from the boards of our previous floor! I spent more time sanding the old finish off than I did building it!!!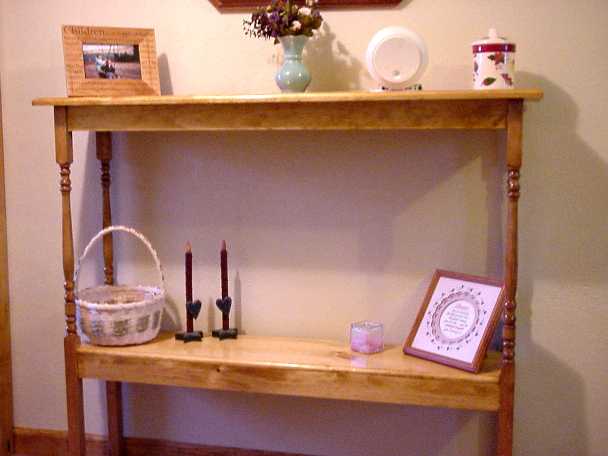 -An Entry table. The entrance to our house needed a place to put your keys, mail, groceries, etc. I built a table that's about 10" deep by 4' long. It stands about 36" high and has two shelves. I mention this piece primarily because it turned out beautiful. I used railing posts for the legs and routed the supports and shelves. It looks like an antique.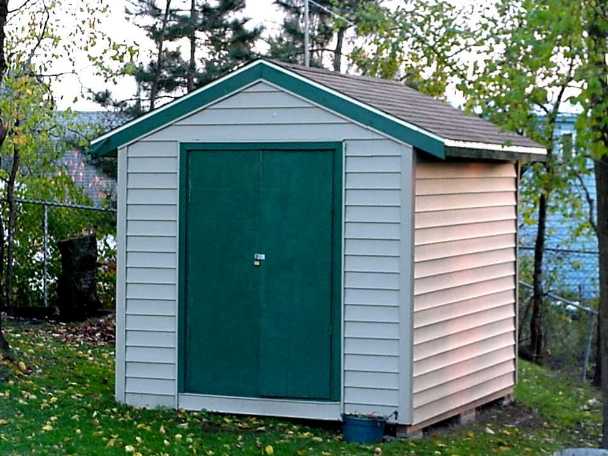 -A garden shed. This shed was built entirely from scratch; no plans. It's 10x12. The roof uses trusses. The walls and roof are sheathed in 3/8" plywood, and the floor is 3/4" plywood. It's sided with the leftover siding from the house, and the trim is the same as used to trim the house. This took 4 days to complete.

-This is a toy Choo Choo that I made for my grandson. I didn't make the wheels or smokestack, but the rest is mine. Actually, this was quite quick to make . With the paint job, it took approximately 10 to 12 hours to complete. (The tank on the engine and the "tanker" is actually a piece of railing)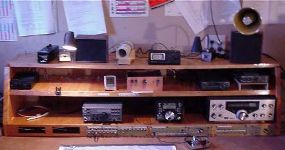 - Finally, my radio console. It's a three piece shelving unit approximately 7 feet long by 19 inches high, by 14 inches deep. The shelves are hollow to contain the wiring. It has built-in patch panels for Keys, Antennas/RF, audio, and microphones. It can hold up to 9 separate rigs, and has a built-in clock, keyer, Power Supply, and Mic preamp. This monster took two months to complete. (Only the main piece of the three is shown)
I've made some other pieces that I don't have pictures of:
-Storage devices like a mini-bookcase to hold plastic drawers of parts, and something that looks like an old library card file; again to hold parts.
-The center Console between the seats of my wife's mini-van. When we purchased our first, we regularly travelled cross-country between military assignments, so we needed a place to store music, tissues, drinks & snacks. We couldn't afford to purchase one, so I built one instead. It's so customized that we couldn't imagine buying one again. I've made 4 so far, with no end in sight.
-A window for my shed. Complete with frame and screen.
-EVERY window casing in the house. With the replacement windows we used when repairing the house, we would have had no sills. Thus, I made all of the casings so we could have sills and "normal" looking casings.
I read voraciously. I try to get in a half hour each night. My favorite book of all is called "A Canticle for Leibowitz" by Howard Miller. Other than that, I prefer sci-fi and horror. Steven King is a name that stands out as well as Piers Anthony, Dean Koontz, and Bentley Little.
Most men find dancing to be not the most "macho" of pursuits. They have no idea how wrong they are! At a gathering, the man that joins his woman on the floor and leads her though a song, all the while exhibiting his poise, is someone who is admired. While all the other men are grudgingly dragged to the dance floor to simply do their "sixth grade shuffle", the man who can dance is leading his partner in spectacular moves that entertain everyone.
That's why I enjoy ballroom dancing. I currently know the Rhumba, Cha-Cha, Swing, Hustle, Foxtrot, Tango, and Waltz. I assume that with that repertoire, I'm pretty much covered at any event. We attend monthly dances, and on a recent trip to Southern Florida, discovered a dance club where we joined several hundred older couples for an evening of dance. (We go to the beaches and nightlife of Ft. Lauderdale to Rhumba with the retirees!!)
I love to garden. It seems to me that the people of my parent's generation nearly felt an obligation to grow their own vegetables. That has passed on to me. I typically grow enough green peppers, string and wax beans, tomatoes, and cucumbers to last us through the winter. Since some of the better growing years have produced ALOT of vegetables, I've also been forced to learn to can and freeze. My tomato sauce is excellent!
I love beer. I love beer with full rich flavor. What's currently popular tastes watered-down to me. What to do? I make my own. Actually making the wort only takes about two hours. The fermentation is another two weeks, but involves no action on my part. Bottling takes another 4 to 6 hours. Wait another four to six weeks, and you have the best tasting beer available. Total cost is 30 to 35 dollars for 2 cases.
No, it isn't illegal. Federal law allows you to produce up to 100 gallons a year for personal use. Neither will it make you go blind. There is no distillation, and when the proper sugars and yeast are used, the beer you'll produce is BETTER than what you can buy in the stores.
I usually make a batch for the holidays (purchased with money from my birthday). Typically, that batch will be a heavy dark or amber ale.
Sadly, homebrewing is becoming a growing fad. That's driving prices of supplies up to the point that making your own is costing much more than simply buying. That, coupled with the proliferation of craft breweries right now, has driven me out of the hobby for the time being. I sold all of my supplies at a garage sale and don't plan to make any more beer until (unless) the price of supplies
comes back down to where there's some cost savings in making your own.
I'm not particularly good at it, but I enjoy it. No tournaments, no championships, no AFC standing, just fun.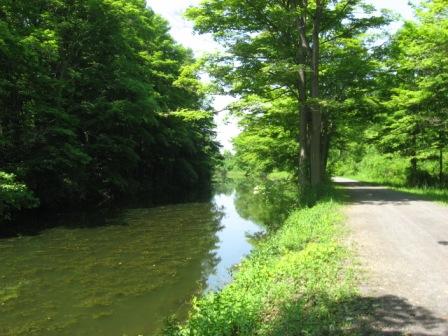 I am blessed enough to live very near the old Erie Canal. The towpath is still intact beside the water and runs continuously for 34 miles. I use it often to bike and hike. It's perfect because it's absolutely flat and relatively straight for all of those 34 miles. Also, since it's been unused for about 100 years, it runs through terrain you wouldn't ordinarily see on the roadside...wildlife, old bridges and trestles, abandoned canal boats (sunken in the muck).
I've seen some interesting wildlife on my local trails too: Weasels, Flying Squirrels, Mud-puppies, Coyotes...
There are those who try to hike every trail in a particular region or on a particular mountain. I'm not one of those. I hike simply for the relaxation. I don't care if it's around a local lake, in an empty field, or just at the train tracks near my home. I love to be outdoors and moving.
** I've recently encountered a bit of a mystery while hiking around a local lake: Small Plastic toy figurines. More than 5 years ago, I found several plastic army-men and cowboys & Indians at the waters edge on the backside of the lake. Every year since, I've found a couple of these toys at the water's edge. This year however, I found thousands of them scattered over a 1/4 mile stretch of shoreline. They were all policemen & firemen; yellow, blue & red. I asked the park rangers, but they had no idea who was leaving them. A mystery that may never be solved.
As part of my recovery from cancer, I started exercising aerobically. At first, I simply walked as fast as I could for 45 minutes. That lasted 5 to 6 weeks until I could no longer make myself breathe heavily while walking. Then, I started jogging. For the first couple of months, I hated it. I was winded, sore, cramping, and miserable.....until spring truly hit in full force. Then, I started jogging around the lakes I hike. Just like the hiking, I enjoyed being in the outdoors, the peace, the wildlife, the quiet.....but I discovered something more: the comeraderie.
Early in the morning, most people out at the lakes are joggers or hikers. They greet each other warmly and encourage each other. While jogging, I feel good about myself and the world. Those people around me are friendlier, and I gain more enjoyment from that time than from nearly every other pursuit.
**Note: Sadly, my knees have given out on me and I can no longer jog. My left knee is nearly destroyed such that I almost had to have it replaced. I will miss the jogging, but can at least continue to hike
I can't imagine anything as relaxing as sitting in the sun watching a still lake for hours on end. Add to that the mystery of what's under the water and what they're doing, and you have fishing in Upstate New York. I'm lucky enough to have several lakes nearby that produce trout, bass, and even some monster carp.
If you've ever fished carp, you'll understand the challenge they present. They come right up to your bait. Getting them hooked is pretty simple. Getting them reeled in however, is another story. Trying to pull in a fish that weighs as much as 35 pounds can really try your patience! More often than not, I've hooked one, started reeling it in, and the line snapped. The fight is where the fun is.
We are blessed with a lot of vacation time. We prefer to burn that time cruising. Imagine...you've just spent the last hour or 2 getting checked in and getting your room arranged. You've endured the muster drill, and are ready for the set-sail party. You go up on deck, grab a fruity drink with an umbrella, and stand by the rail to watch the world slowly slip away. The local population waves as your ship heads down the channel, and in just a few minutes the land you've always lived on is slipping away. The open ocean, and a fun adventure await you.
You quickly change for dinner and dancing and spend the next week or more tanning, sailing, gambling, eating, drinking, dancing, playing, swimming, snorkeling, being pampered and having fun like you never could at home.
I can't imagine a better way to forget the cares of your life for a while and simply relax and enjoy.
To date, we've taken 9 cruises:
Royal Caribbean Explorer of the Sea - 2006
Ruby Princess - 2008
Norwegian Sky - 2010
Disney Dream - 2012
Royal Caribbean Oasis of the Seas - 2012
Royal Princess - 2015
Royal Caribbean Serenade of the Seas - 2016
Celebrity Reflection - 2017
Celebrity Equinox - 2018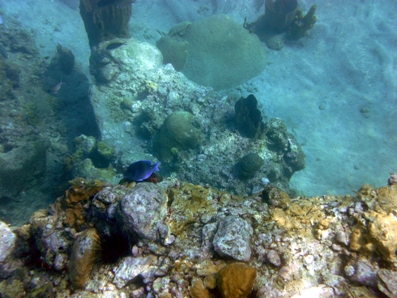 You see dark blobs against the white sand. You can't make much out...until you put your mask on and go under the surface. You've suddenly left your world and entered another. On this world, there are hundreds of species fighting for survival. They are both beautiful and dangerous at the same time. All you can hear is the sound of your own breathing. You know you're an alien in this world, but it is fascinating to observe from above.
That's snorkeling a coral reef.
On several snorkeling expeditions in the Caribbean, we've swum with mantas, barracudas, spoonfish, angelfish, needlefish, and even a lionfish! We've spent more than 24 hours underwater on a dozen or more separate reefs.
Nothing compares to the wonders of the undersea world: Urchins cover the floor in spots. In others, I follow hermit crab tracks until I see the "walking" conch shell. The coral itself is shades of grey, blue, green ,red, purple....Fish as big as myself swim over to see the foreign visitor. Jellyfish are everywhere, but few actually sting.